Poem illustration :
In a few words, This a poem written by one of our "English assistants" (Foreign students who come in France to teach French students how to speak a better English). French students gave the "materials" to write this poem, and Jim (who studied English poetry in Cork) did the work!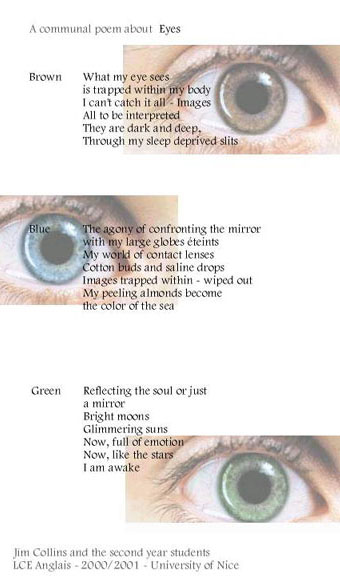 The picture is from the film Requiem for a Dream. Colours have been altered with Photoshop 4.


A Journal (or two...)
English assistants made me work hard, especially when it concerned Englih INDIRECTLY! One year, Kendra, who came from New York asked her students to write a journal. I decided to make my own. I didn't want a plain notebook, but buying a nice one made me feel uncomfortable, like I would spoil it just writing in it.
A first one was plain cardboard and brown paper, badly cut, roughly bound.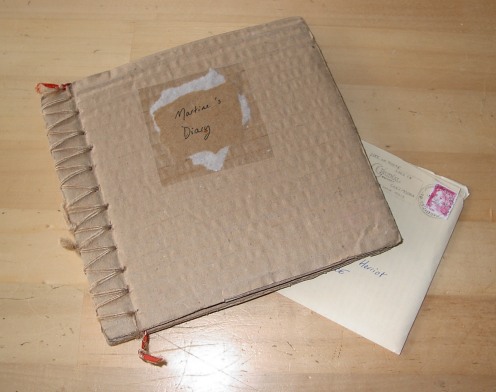 ... closed...
with a "real-fake" letter (see the stamps more closely)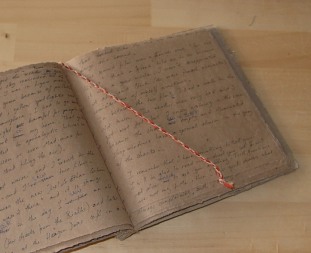 ... and open.
The cover is made of a linoleum, a material meant for carving and printing. I indeed carved the cover and print the front page :
Open...
Here it is!
Bonus! Two other printings.


Boxes for playing cards :
Few years ago, I discovered Trading Cards Games (you probably have heared about "Magic" or "Vampires"). But it is only a few months ago I bought y first set. I chose the Harry Potter version and made boxes for my friend Sylvie and I.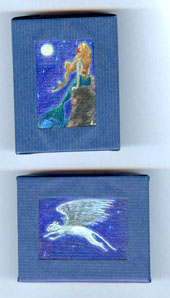 The Mermaid comes from the Fifth M.O.T. comic by Aspiri and Nacho, and the Flying cat comes from Le Mangecoeur by Andreae and Gallie.

Elvish Jewelry :
As soon as it has appeared on the screen, I dreamt it were mine. More than a year after I saw Galadriel offer it to the Fellowship of the Ring, it is mine :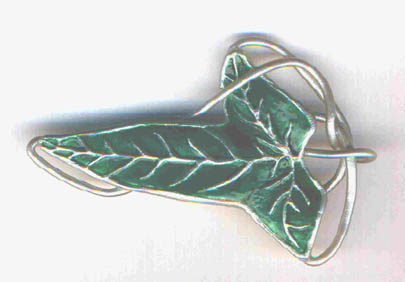 And after quite some time, another piece I strived to extract from the movie (because there a very few shots of it unless you earn the extended version, Galadriel's ring.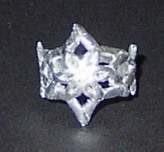 FIMO paste, silvery alumium sheets (gold leafing technique) fake diamond.
Then, a design of my own, this necklace was an order from a friend.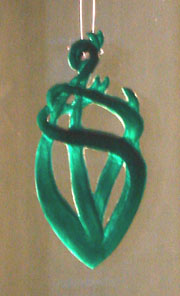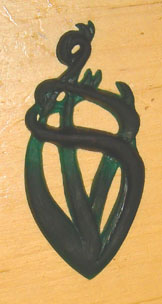 The resin, that can be tinted offers a lot of various effects and transparences. Some varnish and it is transformed again!



At the Beach :
In August 2002, I had the opportunity to spend two weeks on the Welsh coast. The Waring family (for whom I was an Au Pair) encouraged me to enter the Sand Castle Competion with their two daughters Rachel and Georgina. We did this : A Fantasie Castle with secret passageways and bridges , not to mention gardens, fountains and pools.

It was also the opportunity for me to understand that sand scuptures were not as difficult as I thought tehm to be. Here are what contestants made for the Sand Sculpture competition : dolphins and a Welsh dragon (Mind that they are not mine!)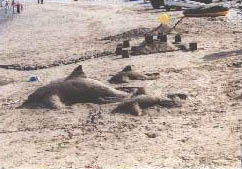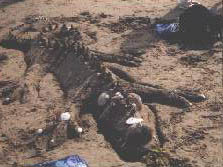 For the remaining days of my stay, I hade the plaesure to do that: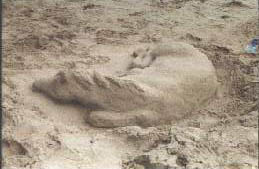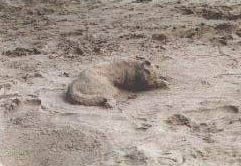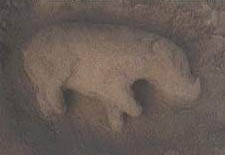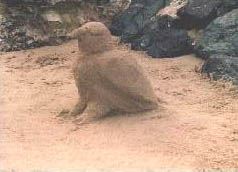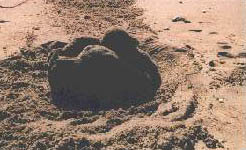 You will easily match the sculture with their name : Clover the (dead)Poney (Those who know would probably smile) ; Felix II the Cat ; Jean-claude the little Pig ; Fausto the Swan and Mordecaï the eagle or whatever (I know nothing about Birds of prey)
Please, have a thought for the sculptures that have been washed away before I took pictures of them : Daisy the Dog and Felix I the cat, named by the kids on the beach of Abersoch, and I can't possibly forget Jack the friendly Shark ; and Lazarus, the Twice-Built Lion which pictures never came back from the photo-lab.


The Faery Factory :
Here are the only objects you can actualy buy from my pages: Feary wings you can put on. Truth is I'm waiting for the appoval of the Comitee of the Marché de la Creation, an "art" market place that is set in Lyon, on the the Soâne River banks on Sunday mornings
Browsing the internet, I found several web sites where to buy wings and they seem rather successful. I started making wings for myself, to wear for a wedding (but wings won't be part of my outfit), And then I told myself : "Well, why don't you make more and sell them?" So I threw myself in. Wish me good luck!

Dragonflies :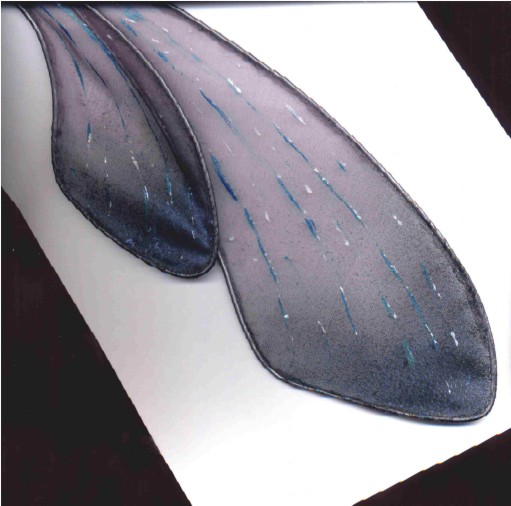 This one is very simple, but I'm thinking about pasting little stars...

Here is the very first dragonfly I made. Look! there are two layer of fabric that are sewn together and slipped on the structure (more or less like a sock) On the others, only on layer of fabric is paste on one side of the structure (like a painter's canvas).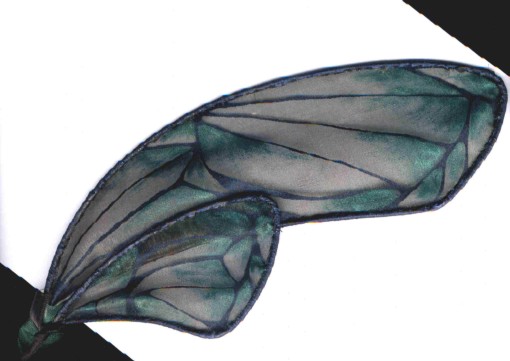 This one is more or less a coy of the previous one.

Butterflies :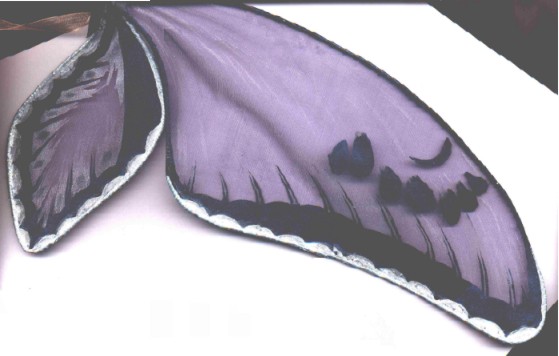 The designs are inspired from real butterflies but don't ask me names...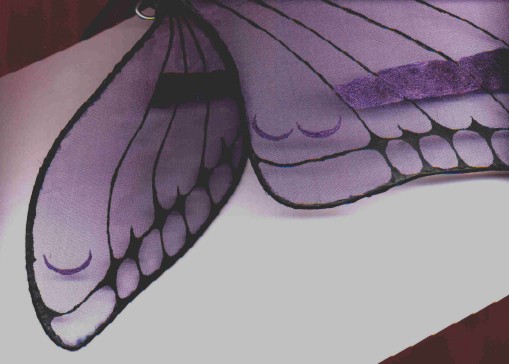 This structure wore another design first, but I didn't liked it so I stripped it and recovered it with something different.

Night faeries :


One of the first ones. there are two layers of fabric on this one too. I like the dangling glass drops that makes the wings more lively.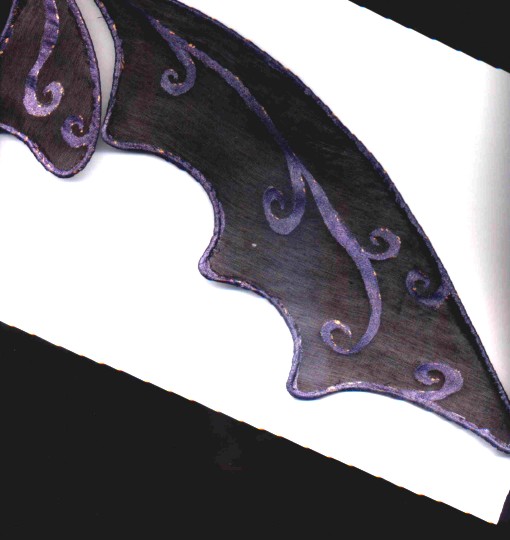 On that one, you can find spirals inspired from Clamps' drawings of wings.
Some would say my wings are dark and sad. I say that they are easier to wear, then, because they are discreet.
Still, I'm working on dyes to get light and vivid colours. The fabrics used for all the wings presented are industrialy dyed and it's not easy to find raw materials.
Before you go and see old and new wings on faeries's back, have a look at a new experiment for bat-like wings. It's but a miniature but something tells me it works human-size too!


Silk paper, metal wire and crystal paint


The New Generation :
From the experiments (right above) three new pairs of wings are born. A new ajuction, the back plate allows the wings to stand up when the previews ones hung against the fairy's back. The back plate is moulded resine from a model I sculpted myself and made a latex mold of.


Metal wire, tracing paper, acrylique, high gloss and transparency medium ; Nepalese paper ; resine, silk.
l=40 cm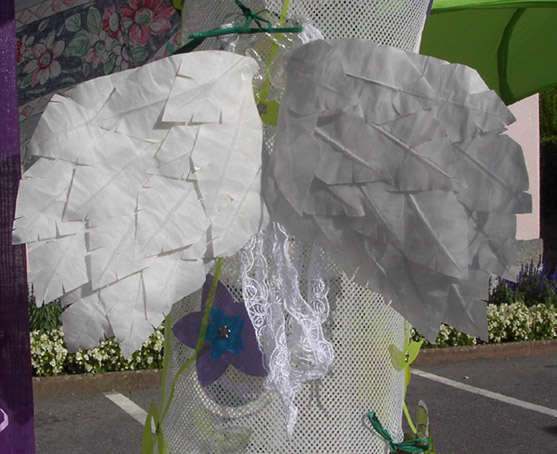 Metal wire, tracing paper, high gloss and transparency medium ; résine ; lace.
l = 50 cm.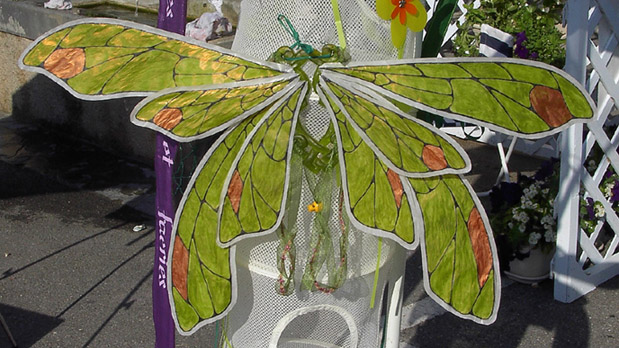 Metal wire, tracing paper, acryliqc paint, "Decopatch" glue/varnish ; resine ; organdi, silk.
l = 115cm


Invitation :
My father is turning an age I'd rather not tell but we are going to celebrate this in style and we invited all of our relatives. I've been asked to design the invitation and I obliged. My father wasn't too keen on the background colour (which was inspired from a set in a tv series) but once it was printed, he concluded it wasn't that bad. This invitation is no revolution in art or design, but I like it.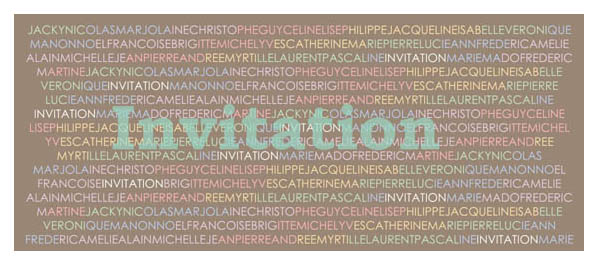 Photoshop